Two founders of JWELL machinery (first from the right: Mr. hehaichao, first from the left: Mr. hehaibo)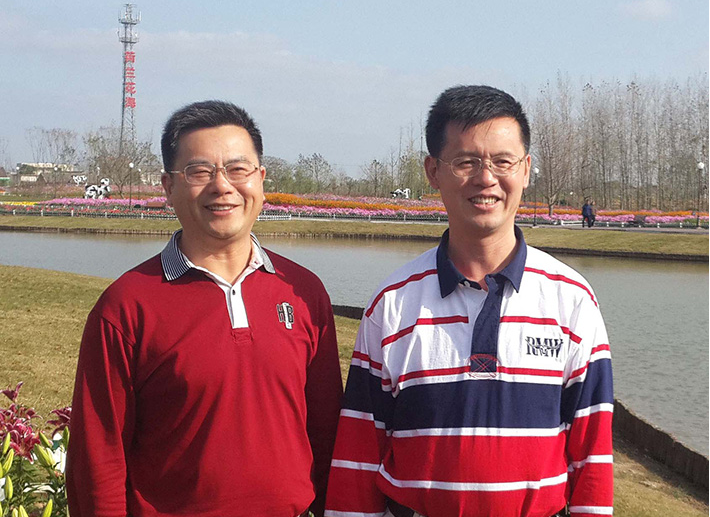 Shanghai JWELL Machinery Manufacturing Co., Ltd. is one of the domestic extrusion plastic machinery manufacturers and one of the modern plastic machinery manufacturing bases. The company not only has many years of experience in producing plastic extrusion machinery and equipment, but also has a large number of innovative mechanical engineering design, process and assembly talents. With the above two points, the products of JWELL machinery are all over the country and exported to all continents in the world, and have successfully entered the markets of Germany, the United States, Japan, Spain and other developed countries.
China plastics machinery has the honor to interview Mr. hehaichao, chairman of JWELL Machinery Co., Ltd., and ask him to interpret the strategic layout and future development of Shanghai JWELL Machinery Co., Ltd.
China Plastics Machinery Co., Ltd.: the domestic and foreign markets in 2015 are complex and changeable. Under the influence of the general environment, how about the production and operation of JWELL?
Chairman he: the overall sales performance of JWELL in 2015 was basically the same as that of last year. Among them, sheet and plate equipment and plastic recycling equipment increased steadily, while profile, pipe and chemical fiber equipment decreased slightly due to the combined effect of macroeconomic and internal transformation and upgrading, but the sales of some products still increased. It has achieved breakthrough growth in the business fields of JWELLxin, such as hollow equipment, complete chemical equipment and co directional parallel twin-screw equipment.
In the field of profile equipment, although the PVC profile market has always been depressed in recent years, there has been a certain degree of growth in wood plastic, stone plastic and other fields. Due to the particularity of wood plastic and stone plastic products, in order to ensure the long service life of the equipment (mainly the special formula and serious wear of the screw barrel) and reduce the maintenance and replacement costs of customers, we have continuously summarized the good screw structure, and introduced new screw barrel processing technology and equipment at the end of last year, thus further improving the plasticizing capacity and service life of the screw barrel.
In the field of pipe equipment, in terms of solid wall pipe equipment, relevant pipe equipment companies are actively upgrading their products, paying attention to reducing the power consumption per unit raw material of equipment, and paying attention to the continuous improvement of product details; In terms of bellows, the equipment of double wall bellows made by cone double extruder developed by JWELL machinery early is being accepted by more and more customers. It has certain advantages in energy consumption and formulation cost.
In terms of sheet equipment, it covers a wide range of fields. The sheet film companies under JWELL have their own advantages. They have gained market positions in many fields, such as pet co rotating double sheet line, pet direct drive exhaust single screw sheet line, stone plastic board production line, PVC foaming board production line, PC optical sheet line, TPO PVC EVA PE waterproof coiled material line, PVC homogeneous permeable sheet line, etc. In terms of basic components of sheet film equipment, such as flat die head and roller, the product processing technology has been continuously improved, and the product quality has been continuously improved. In addition to meeting the internal needs of the company, it has also provided supporting products for many domestic and foreign manufacturers.
China Plastics Machinery: in recent years, the focus of JWELL's development has shifted to Suzhou and Changzhou. Would you please introduce the development of the two regions?
Chairman he: JWELL machinery Suzhou plant is the current manufacturing base of JWELL group. It is located in Suzhou Taicang Chengxiang Industrial Park, covering an area of nearly 300 mu. At present, the Suzhou area of JWELL machinery includes 6 companies: Suzhou JWELL Machinery Manufacturing Co., Ltd., Suzhou JWELL machinery sheet film Co., Ltd., Suzhou Dayun plastic recycling auxiliary equipment Co., Ltd., Suzhou jawell Precision Machinery Co., Ltd., Suzhou JWELL hollow Technology Co., Ltd. and Suzhou JWELL Chemical Fiber Engineering Technology Co., Ltd. In 2007, the group selected Taicang to establish the Suzhou base of JWELL machinery, which was gradually put into use in 2008. The plant covers a total area of more than 120000 square meters. There are large-scale metal processing workshops with an area of more than 50000 square meters, equipped with large-scale heat treatment workshops. It mainly undertakes the manufacturing and assembly of large and high-precision complete sets of equipment within the group. At present, the main products are: all kinds of plastic plates, sheets, waterproof coiled material production lines; All kinds of plastic pipe production lines, all kinds of plastic profile production lines; High precision rollers for various sheet and film forming equipment, screw barrels for various single screw / twin screw extruders, etc.
Changzhou JWELL high tech Industrial Park is another important development strategic center of Shanghai JWELL company. Covering an area of nearly 400 mu, it is a high-tech park dedicated to the R & D and manufacturing of plastic extrusion and molding equipment. It also has a high-quality R & D team, an experienced mechanical and electrical commissioning engineer team, an advanced machining base and a standardized assembly workshop. At present, five companies have been successively established in the park, including JWELL machinery Changzhou Co., Ltd., JWELL Extrusion Machinery Manufacturing Co., Ltd., JWELL pipeline equipment manufacturing Co., Ltd., JWELL chemical complete equipment Co., Ltd. and dege Machinery Co., Ltd., a Sino Italian joint venture. In addition to the mature products of JWELL, such as pipes, profiles, sheets and plates, the business scope also extends to new products such as parallel twin-screw extrusion equipment, material conveying and mixing equipment. With the establishment and settlement of more companies, the park's product system will be more sound, covering material transportation, mixing and granulation, various extrusion molding and complete chemical products, with the ability to serve customers in the rubber and plastic industry in an all-round way.
China Plastics Machinery: the "two plant areas" are of strategic significance to the future development of JWELL. Would you please introduce the current development situation?
Chairman he: after 8 years of hard work and honing, the R & D innovation capacity and manufacturing capacity of Suzhou plant have been greatly improved every year. Relying on the technical background accumulated in the plastic machinery industry for many years, and at the same time conducting joint research and development with some colleges and universities related to the industry, several companies in Suzhou plant area have successively won the honorary titles of high-tech enterprise and provincial R & D center. In the past two years, we have been promoting technological innovation and new product development, paying attention to customer needs and accelerating the pace of innovation; The company has successively launched a variety of production line equipment with high technical content, automation degree and product added value, such as the production line of super large diameter solid wall pipe with a diameter of more than 1600mm, the production line of RTP high-pressure composite pipe, the production line of wide waterproof coiled material with a width of more than 8m, the production line of stone paper, the production line of solar cell / lithium battery diaphragm, and the production line of optical grade transparent sheet / membrane, so as to create higher value for users.
There are now five companies in the Changzhou plant of JWELL machinery. Among them, "Changzhou JWELL complete chemical equipment Co., Ltd." and "Changzhou JWELL pipeline equipment manufacturing Co., Ltd." established in the second half of 2015 are one of several enterprises under JWELL that produce complete sets of equipment. The former mainly produces high-end parallel twin-screw extruders and their sets of equipment. Through design innovation and technical integration, the screw torque grade of pure domestic equipment has exceeded 12 n.m/cm3, and the screw speed has reached 1200rpm, In addition to 1.55 standard, 1.66 deep groove type is added to the screw internal and external diameter ratio. It can be said that the parallel twin-screw extruder of JWELL company has been greatly improved in the domestic technical level.
The latter is the second enterprise under JWELL group named after "JWELL pipeline equipment manufacturing Co., Ltd.". This designation marks that the main products are centered around plastic solid wall pipe equipment and related products, which is a very broad market. The company's product positioning is high-end plastic machine, introducing and optimizing product structure and performance. Combined with various advanced technologies, we will explore domestic and international high-end plastic machine markets.
China plastic machinery: the competition in the plastic machinery industry is very fierce. JWELL has maintained the position of the leading domestic extruder enterprise for many years. What is the new strategic focus to do to maintain and carry forward the brand influence of JWELL?
Chairman he: in order to better serve users and create jwell brand value, JWELL machinery is continuously investing human and material resources in improving the quality and accuracy of the main key parts of the extrusion production line. From the quality improvement and upgrading of the main key parts, it is promoting the company's product technology upgrading step by step, including "increasing R & D investment", "introducing talents" and "updating equipment".
Last year, the Suzhou regional company configured a super mirror roller dust-free polishing workshop, and introduced the Japanese technology super mirror roller disc precision CNC grinding equipment, which provided a guarantee for the product quality control of the optical grade transparent film / film production line. The excellence manufacturing process has been recognized by experts in the industry at home and abroad. At present, the global first-line brand plastic extrusion equipment manufacturers have also installed our precision rollers, The production line operates in Germany, the United States and many countries and regions around the world.
In Changzhou area, the parallel twin-screw extruder has not only greatly improved the screw torque in terms of product technology, but also equipped the whole machine with high torque high-speed transmission box, high-precision cylinder and high-precision screw elements, high-strength mandrel and improved feeding technology matching with high-speed and high torque models. Great technological progress has led to a substantial increase in the output of single machines and a significant improvement in product quality. At the same time, the comprehensive energy consumption per unit output of finished products has also been significantly reduced. In view of the different equipment requirements of each kind of pipeline, Changzhou pipeline company carefully understands the details of each kind of pipeline, such as the standard, operating environment, and the actual construction conditions of customers, enhances communication with people in different industries, and constantly improves our products.
"Perseverance, hard work and innovation" is the company's corporate culture. JWELL machinery has been doing this for more than ten years. We should continue to inherit this spirit, and strive to make every customer who buys our equipment get cost-effective equipment, so as to create higher brand value.
China Plastics Machinery: what do you think is the key to the success of JWELL company?
Chairman he: the key is people. No matter how advanced science and technology is, talent will always be the key to victory. What you can see about JWELL today cannot and cannot be accomplished by a few people. JWELL's achievements today depend on the hard work of our team for many years.
JWELL company has always attached great importance to the selection and training of talents. In addition to recruiting from major universities, the company also pays attention to the internal training of the enterprise. Our "JWELL class" was established through school enterprise cooperation to cultivate talents with self-learning ability, innovation spirit and innovation ability. It aims to cultivate a reserve of talents with the concept of "craftsman spirit". The company has also been advocating that "dedication must be rewarded".
JWELL company also has its own concept for the appointment of talents. JWELL company is composed of 18 equipment manufacturing enterprises, which means that we need more enterprise managers. However, these general manager level managers are not just professional managers. We are looking for partners who can agree with the enterprise concept of "perseverance, hard work and innovation" and have common aspirations, JWELL company has become an incubator for general managers. A good Bole should not only have the insight to find a thousand mile horse, but also give a thousand mile horse space to gallop. Over the years, a number of management talents have emerged in JWELL company, such as general manager Zhou Bing, general manager Zhang Bing, general manager Rong Qingliang, general manager Liang Ruiqiang of Suzhou JWELL factory, general manager Lou Yijian, general manager Liu Huiming, general manager Wang Tao, general manager Liu Chunhua, general manager Shan Haixia of Shanghai JWELL factory, general manager Wang Liang, vice chairman Xu Guofu, general manager Chen Qi, general manager Ma Dejun of Changzhou JWELL factory Vice chairman Shan Yetao, general manager Peizhang and so on. Everyone has their own bright spots. Under their management, the company is also full of vitality.
JWELL Changzhou plant is a future oriented high-tech industrial park built by JWELL company with a large amount of money. Last year, five enterprises started business. We have always encouraged and supported those partners with common aspirations and fighting spirit to start businesses together. Changzhou will be the place for these entrepreneurs to show their skills, so I prefer to call it "entrepreneurial park", and I also look forward to more energetic talents, More people with similar interests choose to cooperate with JWELL to start a business together.
China Plastics Machinery Co., Ltd.: please introduce the future development plan of JWELL company.
Chairman he: the plastic processing enterprise has always been a high energy consumption and labor-intensive enterprise. Energy saving has always been the common goal of all enterprises in the plastic industry. As a mechanical equipment manufacturing enterprise, the continuous improvement and upgrading of products is our long-term task. Therefore, energy saving is also the main direction of our equipment improvement. With the continuous application of new materials and new technologies, more possibilities are provided for equipment energy saving and high production.
For the implementation of industry 4.0 and the Internet + concept, JWELL machinery has always been actively promoting and practicing it. As early as in May 2015, at the Guangzhou Yashi exhibition, JWELL company held a press conference on plastic extrusion industry 4.0 and demonstrated a remote monitoring system based on mobile terminals. For us, industry 4.0 is divided into two parts. One is the promotion of industry 4.0 by our own enterprises. The core is to improve the visualization and real-time query of customers for the whole process of product processing, manufacturing, use and maintenance, and improve customer satisfaction. Another part helps customers realize the unmanned management of the production site, improve the reliability and automation level of equipment, remote monitoring, ERP integration and other functions.
It is not easy to talk about the future, because we still have a long way to go. In each segment of plastic extrusion equipment, we have gathered a group of experienced, energetic and passionate JWELL people. With common goals and aspirations, we hope that China's extrusion equipment can catch up with and surpass the world trend.